Build your networks and learn from others
Build your networks and learn from others. Our IS Council events offer a wide range of engagement opportunities for our community of stakeholders to share expert knowledge, advance best practice, discuss fresh and innovative ideas, and connect with industry peers across different platforms. Our networking forums offer the latest updates on IS Council's rating scheme, and our ever-popular webinars deliver expert knowledge on sector trends, the latest product and service offerings and market updates. 
IS Connect
IS Connect (Australia and New Zealand), the premier event in the sustainability sector calendar, provides two days of opportunities to connect with private and public sector members, and to hear from industry leaders about how we can best advance the four pillars of sustainability – environmental, social, economic and governance. 
Gala Dinner and Awards
The annual IS Connect Gala Dinner and Awards Night recognises and celebrates the successes of exceptional individuals, organisations and projects in the IS Council community who demonstrate best practice achievements.
If you would like to partner with us to deliver an event, please contact events@iscouncil.org
Upcoming events
Build your networks and skills at events that work for you. Take a look at our comprehensive range of in-person, online and hybrid events where our community of stakeholders share expert knowledge, advance best practice, discuss fresh and innovative ideas, and connect with industry peers.
RSO-6 Materials lifecycle impact measurement and reduction using alternate
Join this latest IS Council webinar on Materials Lifecycle Assessment and alternate techniques
The Infrastructure Sustainability Council published the Materials Lifecycle Assessment Guideline in May 2021. ISC projects can now use the power of LCA software such as eToolLCD to model materials of infrastructure projects.
Maryia Perthen and Rob Campbell from eTool will run participants through the process of completing RSO-6 using alternative LCA techniques.
December 8 2021
999 Hay Street Level 10, Perth, WA 6000
09:00 am
More info
ISC Annual Western Australia Sustainable Infrastructure Symposium
Leading the way in Sustainability Impact and Outcomes
This full day conference will review recent project successes to provide the foundation for addressing the big issues facing our sector and the people, planet and economy we impact. We'll be looking at:
Energy and Western Australia's Climate Change Policy
Decarbonising Infrastructure
Circular Economy and Supply Chain Opportunities
Where innovation is taking us and how we lead the way, taking advantage of future possibilities
Join us for a day of compelling content and case studies followed by a networking session.
Click here to download our full conference program
Our Speakers:
Leo Coci, Managing Director, OMTID
Ainsley Simpson, CE O, Infrastructure Sustainability Council
Pat Illot, Director, Perspektiv
Pam Simpson, Principal Sustainability and Environment Consultant, Jacobs
Tim Williamson, Sustainability Manager, South West Gateway Alliance 
Leigh Penney, Project Sustainability Manager, Laing O'Rourke
Dr Kerry Griffiths, Technical Director, Infrastructure Sustainability Council
Susie Page, Strategy Lead, Sustainability at METRONET
Steve Beyer, Director Portfolio Strategic Projects Office, WA Department of Transport
Karen Boyce, Manager of Project Approvals, Fortescue Future Industries
Scott Davis, Lead Innovation for Minerals Australia, BHP
Joseph Casella, Commercial Manager, Tianqi Lithium Australia
Mauricio Olivares, GM Technical and Deputy Project Director, Covalent Lithium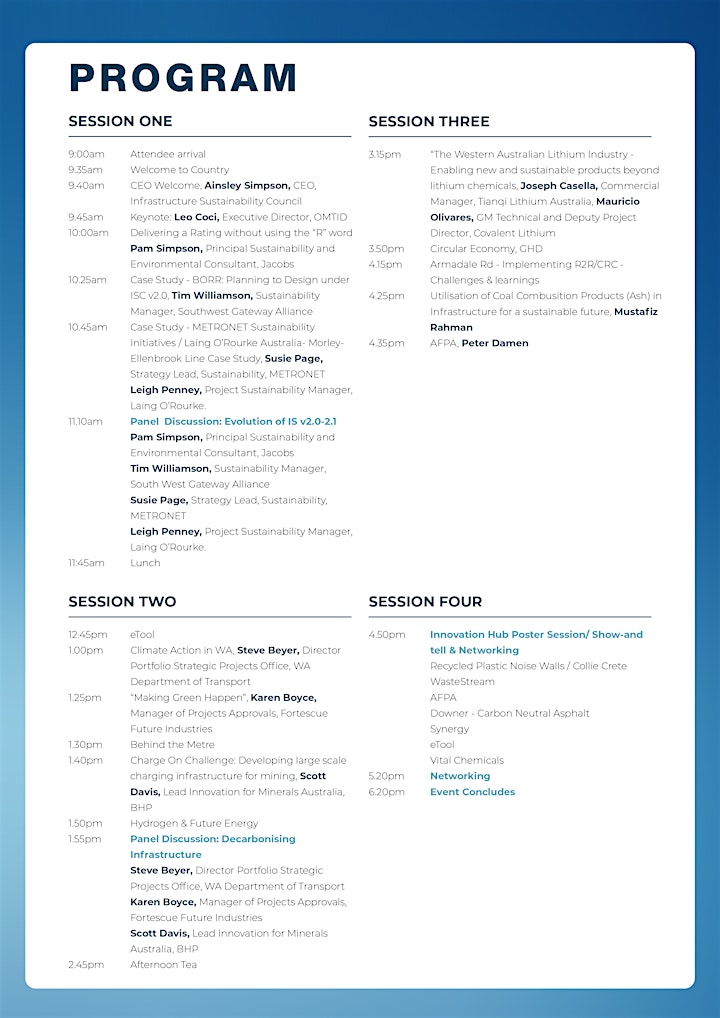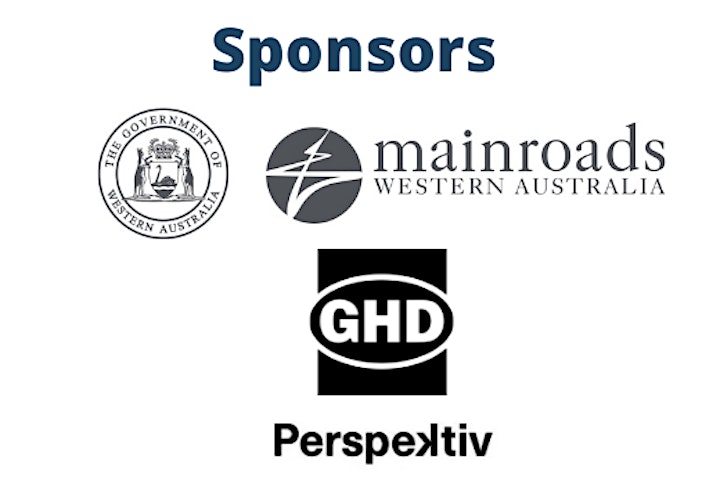 Achieving Sustainable Growth through Environmental Intelligence
From reactive management to actionable insights
Join us in a discussion with Envirosuite, where we will explore why ensuring ESG and Innovating to zero have never been so prevalent in global business operations. Particularly now in a post pandemic world, businesses continue to face challenges in meeting environmental expectations whilst driving growth. Using Environmental Intelligence, industries can shift from a management to modelling approach, producing operational efficiencies and cost benefits for their business.
Environmental Intelligence (EI) is a technology-driven process which harnesses the power of big data, machine learning and analytics tools to produce real-time visualisations, predictive modelling and actionable insights.
Join Ivan Fernandez, Industry Director at Frost & Sullivan and Ben Rippingale, Senior Environmental Intelligence Advisor at Envirosuite in a discussion that explores the recent Environmental Intelligence report and addresses:
- Macro drivers in a post pandemic world
- Challenges industries face to transform operationally to meet environmental expectations
- How EI can be used to shift from a management to modelling approach to provide significant business benefits
Stay up to Date!
Stay up to date with our latest publications and news.